** Please note that the interactive list displays only exhibitors who have submitted their detailed online listing. Click HERE to view all the 2019 exhibitors.
Affinity FM Ops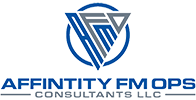 Booth: 254
305 E. Ramsey
FACILITIES MANAGEMENT | COMMERCIAL RESIDENTIAL
Take Your Real Estate Asset(s) to New Heights
Do you own or operate a real estate asset or a portfolio of them? If so, Affinity FM Ops Consultants LLC, a premier facilities management operation consulting firm is an invaluable resource. We are committed to helping you keep your property or properties in optimal condition. With our services, you can avoid the time and hassle it takes to maintain your real estate asset(s) and focus on more important matters, like running your business. Regardless of whether you're on the commercial or residential side, we can help. You can count on our highly experienced and creative team to get to know your unique needs and design a customized plan that will allow you to meet (or even exceed) your revenue goals.
Through our unique service offerings, you can:
* Identify and manage opportunities for improvement
* Avoid potential financial and security risks down the road
* Optimize revenues
* Make the most of your real estate asset(s) for years to come
INDUSTRIES WE SERVE
Commercial buildings, Big Box retail, Malls, Restaurants, Hotels, Commercial tenant properties, Health Care Senior living communities, Memory care, Medical office buildings, Clinics, Residential, Apartments, Make Readies, HVAC Plumbing, Apppliance repair, Trash valet, School, Universities, Private school, College, Daycare
ABOUT US
Affinity FM OPS Consulting LLC is a premier facilities management operations consulting firm. Our dedicated and passionate team has more than 30 years of combined experience in the field and is committed to saving you time and money through innovative solutions. After we review your unique business needs, we'll design a customized plan that will allow you to increase your revenue and meet (or even exceed) your goals. We can take care of maintaining your real estate asset(s), so you can sit back, relax, and focus on your core operations. Our Process If you make the wise decision to work with us, you can count on our facilities subject matter experts (SMEs) to uncover opportunities that can reduce your expenses and optimize your revenues. We'll create a unique operations and maintenance manual for you so that you can save as much as 25% in facilities operational expenses. Our services will also give you the opportunity to plan your budget better and reduce the operational disruptions that often stem from emergency maintenance situations.
HVAC, Painting, Plumbing, Flooring, Remodel, Electrical,, Make Ready